Welcome in our cottage with seaview, direct on the beach

Welcome in our Plouescat beach house !
It's everyone's dream… to live in a house on the beach… to wake up to the sounds of the waves… to see the ocean as it changes colours throughout the day. Your dream came true. Our villa is the place to go as an escape from the world we live in. It is a special place where you and your children will create the most magnificent memories.

The villa was built in 2014 in front of the Porsmeur beach in Plouescat, Brittany. You will enjoy a unique panoramic seaview from your bedroom when you wake up, from the couch when you're reading, from the jacuzzi when you're relaxing, from the kitchen...
Here is what you will find in the house :
Bedrooms and bathrooms :
- adult bedroom, upstairs, with its 160x200cm bed (linens provided), dressing, private shower and jacuzzi (for 2 persons), desk in front of the sea
- adult bedroom, downstairs, with its 160x200cm bed, dressing
- kids bedroom, with 2 kid beds 90x190cm
- bathroom with a shower
- 2 separate lavatories

A modern new kitchen with dishwasher, oven, microwave, refrigerator, induction cooker, filter coffeemaker, nespresso, toaster, washing machine, clothe dryer and all the dishes you will need
A living room to get relaxed with sat TV, dvd and blu ray reader, free internet Wifi, couch and sofa

In the garage where you can park your car, we let 4 bikes, 1 kayak, 1 paddle at your disposal.
On the beachfront terrace, you will enjoy our 2 deck chairs and take time to read, sleep, and listen to the wave songs. You have a second terrace with a wide table and a parasol, as well as a private and closed garden.
Let's have a look at the villa, its living room and kitchen :
Now let's have a look at the bedrooms and bathrooms :
In Plouescat, you will enjoy lots of activities. From the villa, you can take the coastal path, that runs along the coast.
Plouescat is a unique spot in Brittany where to enjoy kite-surf, kayak, speedsail, yachting... We are very close to Brignogan, Plounéour-Trez, Cléder, Moguériec, Santec, Roscoff, Saint Pol de Léon et Carantec.
Have now a look at the Porsmeur area, which is a true paradise :
Plouescat is located at 4km from the beach house. You will find all the shops you need there (bakeries, supermarket, casino, flowers...)
Feel free to contact us at any time at 33 (0)6 61 99 84 00 to get more informations. Animals are allowed under conditions.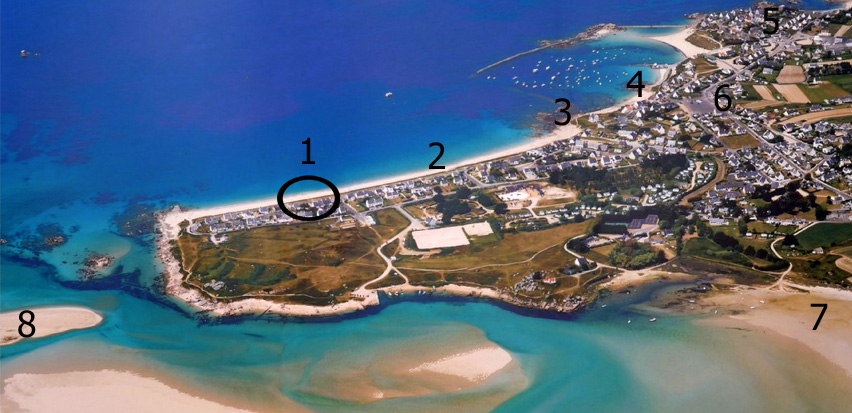 1. Maison à louer / Beach house / Ferienhaus
2. Plage de Porsmeur
3. Restaurant Roch Ar Mor
4. Port et centre nautique / Nautical center / Wassersportzentrum
5. Crêperie Enez Eog
6. Restaurant A l'Essentiel
7. Base de char à voile / Land sailing / Strandsegeln
8. Dunes de Keremma